How operational platform tasks smother business growth
In most SaaS companies, it's growth that often starts their ultimate demise. Why? Because the abrupt change from tentative baby steps to full-blown sprinting sees many founders and CEOs over-investing time in tasks that are urgent – but don't contribute to the mission-critical activities of generating income or building the product.
Our latest eBook, From start-up to hyper-growth: how to set your SaaS business up for scale, explores the roadblocks that often trip up fast-scaling businesses – and why busywork is what sends so many SaaS companies to an early grave.
Setting yourself up for failure
As a start-up, there's always the juggling act of money-in versus money-out. To grow, you need to keep those running costs low – that means maximum operational efficiency. But there's a fine line between working efficiently and suffocating your growth. While entrepreneurs are known for making things happen, if you don't build your systems for scale, you'll likely be faced with service disruptions, poor performance and cost blow-outs.
A lag in product development
The world of SaaS is cut-throat – getting new features to market quickly is the key to growing your market share. But when product teams are weighed down by software management tasks, they cannot plan and develop new, higher-value products and features. The result is, product development cycles become fewer and further between, which can lead to significant technical debt.
At risk of security breaches
It's easy for security to take a back seat when other things seem more urgent. And while you might be able to get away with this approach in the beginning, as soon as you cross that bridge into the mainstream, your risk increases tenfold.
Without a secure cloud platform with strong security systems that allow for the proactive identification of threats, maintaining your reputation and customer trust will be at risk too.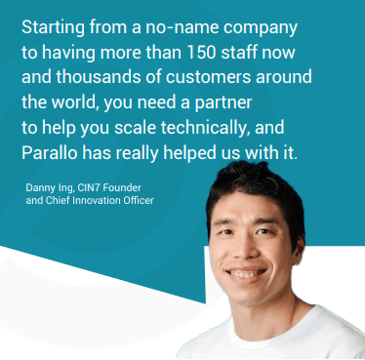 Losing track of costs burns cash
A big part of growing your SaaS company is keeping costs down. Most founders don't have the time to watch every cent that comes and goes, but the downfall of neglecting your spending can be the total opposite. While big-ticket items are fundamental, operational costs often get overlooked – and can quickly add up.
Abandoned customers are lost opportunities
It's easy to see why start-ups focus on acquiring new customers – there's an immediate pay-off to winning a sale. The never-ending cycle of customer retention isn't quite as sexy, but it takes a lot of hard work to fill a leaky bucket. Relying too much on 'top-of-the-funnel' tactics instead of retaining and upselling existing customers means missed opportunities.
Start-ups must readjust their focus
After helping grow more than 40 ambitious start-ups into world-class SaaS businesses, we've seen first-hand what helps companies scale – and what holds them back. Nine times out of ten, busywork is what cuts growing SaaS companies off at the knees. Constant interruptions from technical distractions lead to a loss of focus, and from there it's all downhill.
So, what's the solution?
To find out how you can optimise business performance, security, availability and cost so your SaaS business can get growing, Download our eBook "From start-up to hyper growth: how to set your SaaS business up for scale"
Related Topics