Typically, SaaS companies and most Software companies like to develop software applications and deliver them to the market as fast as possible. What can happen when the focus is on speed is that security issues might be overlooked.
These cybersecurity issues are a major concern, especially when it comes to protecting Azure infrastructure or your customer's data. It can be challenging to address all these vulnerabilities, but it doesn't have to be.
Microsoft Azure provides a highly secure layered platform to host your infrastructure, applications, and data. Once your workloads are successfully migrated to the cloud, in addition to greater agility and performance – you now have access to Azure's built-in security benefits.
From our years of experience working with multiple Software companies, we've developed a comprehensive security ecosystem to strengthen your Microsoft Azure framework and application posture. We leverage Azure's powerful security features along with our existing tools to protect against threats and secure your IoT devices.
The Parallo Managed Security Service is our suite of four security service components. At a glance, it looks like this: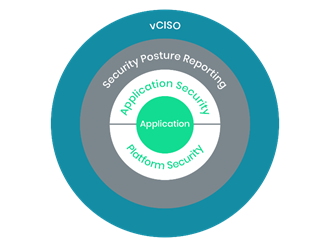 The phases are as follows:
Protect your security and compliance posture with Microsoft Azure Security Center
There are many physical, infrastructural and operational controls available to help secure Azure. The Security Center can help Software companies assess their current security situation by aggregating issues and calculating a 'Secure Score'. The lower the score, the more vulnerable your posture is. Our Posture Reporting service uses this Secure Score to map out remediation plans in order to safeguard your VMs, networks, applications, and data.
Identify and address threats before they cause harm
Security information and event management or SIEM is a core security function that is essential for Software companies. Azure Sentinel, offers intelligent security analytics for a birds-eye view across your organisation and application. An investment into your security, Sentinel collects data across all your customers, devices and apps and uses trillions of data points and AI to detect and prioritise potential threats. With all these vulnerabilities surfaced at the tips of your fingers, we systematically address and respond to them.
Protect your product with continuous auditing and reporting
Resilience and reliability are table stakes for SaaS products and applications. Business continuity and data protection are critical issues for Software companies, especially today. Our bespoke Application Security Testing service does the heavy lifting so you can focus on your next release instead. The protection service provides a form of continuous compliance designed to give you increased visibility into vulnerabilities within your product.
Bringing strategic insight and oversight to your security challenges
We know that deep security expertise is sometimes hard to come by. In fact, a recent CSIS survey of IT decision makers across eight countries found that 82 percent of employers report a shortage of cybersecurity skills, and 71 percent believe this talent gap causes direct and measurable damage to their organisations.
What if you could avoid the hassle and costs of hiring a security lead and bring in skilled leadership and insight to your organisation on-demand? Our vCISO (Virtual Chief Information Security Officer) service is an accelerated, high-level approach to your security challenges. This option is great for Software companies that have time or budget constraints. Engaging an experienced security professional with the required skills needed can also free up some of your in-house team's workload, enabling them to focus on what they do best.
To explore and understand these services in more detail, our latest eBook 'Further, Faster, Safer: a security roadmap for SaaS creators and Software companies" is a guide that explains our multi-pronged security approach and outlines a roadmap to help you put guard-rails around your march to application maturity.
Related Topics